Obi-Wan Finale - The Loop
Play Sound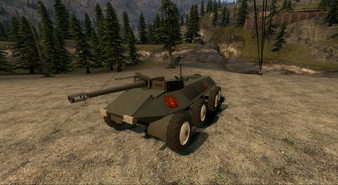 Designer: SP National Factories & Manufactures.
Theme: Cold War
Role: Reconnaissance, Infantry Support
Weight: 13 tonnes
Armor: 50 - 12
Power Plant: 2.8 L Flat 6 Petrol SP Engine
Armament: x1 75mm Short Cannon, x1 12.7mm Machine Gun, x4 40mm Somoke Grenade Launchers
History
[
]
Based on an apc prototype chassis, this vehicle was designed for infantry support and heavy reconnaissance duties. Its heavy armour, high mobility, and high speed make it a tremendously versatile vehicle. Another plus is that the crew enjoys a good view because it is an open top vehicle. Its gun can fire APHE shells against fortifications and medium/light armour, it also carries HEAT shells to engage heavy armour. Its low profile and good elevation and depression angles make it a good choice for ambushing.