Akare Heavy Industries
Founded
2007
Origin
United States
Founded, Lore
1915
Industry
Automobiles, Aerospace, & Defense
Employees
5
Akare Heavy Industries, or just Akare (ah-kar-ee) for civilian vehicles, is a fictional Garry's Mod vehicle development corporation, primarily in the production of armored and civilian vehicles.
AHI was founded in 1915(2007), and their first flagship automobile, the Skykord GS, was launched in 1966. Prior to 1966, AHI developed only military vehicles, after the Skykord's success AHI began producing performance and offroad vehicles, most notably the Scout II (2008) and the Super Six (2010). Akare vehicles were all powered by a combination of wheel torque and thrusters until the introduction of ACF engines in 2010.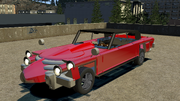 Community content is available under
CC-BY-SA
unless otherwise noted.